Lecture 26 - Reproduction in the Canine and Feline
The Canine
Bitch
Puberty - 6 mo.
Monoestrus

One estrus during breeding season

Estrous Cycle

Proestrus
Estrus
Metestrus or Diestrus
Anestrus
Estrous Cylce (Non-Pregnant)
Proestrus (9 days)

Vulva swollen
Bloody discharge
Attracted to male but does not mate

Estrus (9 days, ovulation day 2)

Accepts male
Straw-colored discharge

Metestrus or Diestrus (90 days)
Anestrus (5 months)
Hormonal Changes (non-pregnant Bitch)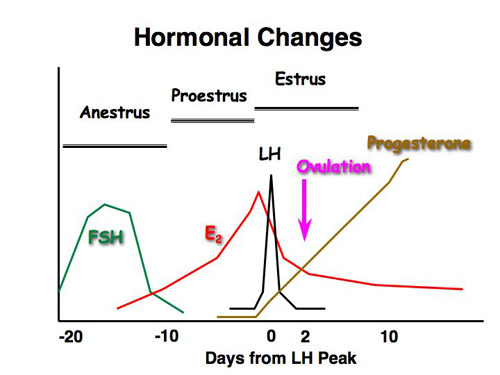 Estrous Cycle - Pregnant
Proestrus (9 days)

Vulva swollen
Bloody discharge
Attracted to male but does not mate

Estrus (9 days, ovulation day 2)

Accepts male
Straw-colored discharge

Pregnant Metestrus/Diestrus (50 - 60 days)

Pregnancy
Parturition (63 days from ovulation)

Anestrus (5 months)
Mating
Occurs during estrus
Length of courtship by male is variable

Licks vulva
Bitch stands with tail to one side

Mounting

Male mounts without erection and penetrates
Os penis
In vagina, male bulbus glandis engorges, thrusting
Male dismounts and turns around but penis remains in vagina "the tie"
Ejaculation
Tie last 5 min to 1 hour
Canine Mating


Mating (cont.)
Mate 2 times

Days 11 and 13 after start of proestrus

Sperm lasts up to 7 days in female

Infertility

Often from mating not at appropriate time

Hormonal detection of ovulation

LH increase associated with progesterone >0.5 ng/ml
Ovulation progesterone 2-5 ng/ml
Pregnancy
63 days (58-68)

Range due to dating from breeding not fertilization

Hormonal Changes

Similar to not mated
Progesterone maintained higher
CL required to maintain pregnancy
No placental progesterone
Placental relaxin
Drop in progesterone triggers parturition

Detection

Adominal palpation at 3 - 4 weeks
Ultrasound after day 16

Parturition

Hormones similar to other farm animals
Parturition
Delayed Parturtion

Primary inertia

Does not show signs of parturition
Does not progress from stage 1 - stage 2
If green fluid, Caesarian
Give oxytocin in several small doses

Secondary inertia

Uterine exhaustion
Oxytocin
Estrus Control
Disorders of the Bitch
Cystic endometrial hyperpalsia (pyometra)

Uterus fills with fluid

Progesterone increases first
Contamination of uterus by vaginal bacteria
Toxemia results from absorption of fluid and endotoxins

Thirst,vomiting, inappetence, shock, death
4-6 weeks after estrus
Bitches >9 years that have not had a previous pregnancy
Can be open or closed
hysterectomy
Disorders of the Bitch
False pregnancy

Normal to some extent
60 days after estrus
May lactate, gain weight, nesting behavior

Mammary tummors

Thought may be related to similarity to pregnancy and non-pregnancy
Disorders of the Male Dog
Hypersexuality
Cryptorchidism

Normal descent at days 7-10 after birth
Should be removed if retained for >1 yr.
Artificial Insemination
Bitch does not accept the male
Shipment of semen
Minimize the number of breedings
Insemination of the Bitch
Bitches ovulate around day 10 after they enter proestrus (discharge) or about 1 - 2 days of estrus.

Ovulation can be detected by:

LH assay (peak LH value + one day)
Progesterone assay (>5 ng/ml)
Cytology of vaginal smear (>50% cornified cells)

Remember oocytes in the canine are ovulated as 1° oocytes and must mature in the oviduct to a 2° oocyte before fertilization.
Fresh or cooled semen, inseminate 2 days after ovulation detected and again 48 - 72 hr latter.
Frozen semen, inseminate on day 5 - 7 after ovulation
Uterine insemination better than cervical

Feline Reproduction
Domestication?
Female-Queen
Male - Tom
Puberty
Estrous Cycle

Seasonal

January to September
House cats may cycle year round
Estrous Cycle
Pro-estrus

1 - 2 days
Attracted to males
Rubs head and neck on objects
Vocalization, posturing and rolling

Estrus

Accepts male
4 - 6 days if male present, 10 days if no male
Ovulation 27 hours after mating (induced)
Affectionate to aggressive towards owners
Estrous Cycle
Proestrus if queen did not ovulate
Diestrus after ovulation

psuedopregnancy - 40 days
pregnancy - 60 days

Anestrus 3 - 4 months

Hormonal Changes
Proestrus

Estrogen increases due to follicular development

Estrus

Estrogen high until ovulation
Ovulation 27 hr after mating (vaginal stimulation)

Diestrus

No Cl if mating does not occur, so no diestrus
Cl produces progesterone (63 days, peak day 20)
If pregnancy does not occur or fails, CL life only 1/2 that seen in pregnancy.
Mating
Queens call or vocalize (low moaning sound)

Owners may think a sign of illness

During mating

Tom bites neck female
With erection penis faces forward

Mating
Queens call or vocalize (low moaning sound)

Owners may think a sign of illness

During mating

Tom bites neck female
With erection penis faces forward
Only lasts 30 seconds to 5 minutes
As male dismounts female gives a loud copulatory call and Tom retreats
Mating occurs 6 - 7 times until queen declines
May occur for up to 4 days

Pregnancy
63 days
Diagnonsis

Adominal palpation day 17 -25
Parturition
Similar to other species in events and hormonal control
Dystocia rare - caesarian
Uterine inertia - oxytocin
Control of Estrus
Ovariohysterectomy
Induction of Ovulation
Prevention of estrus
Disorders of the Queen
Psuedo-pregnancy

Mating to sterile male
Vaginal stimulation or hormonal stimulation

Cystic endometrial hyperplasia (Pyometra)
Failure to cycle

Stress, poor nutrition, disease, inadequate light, cystic follicles
Diseases of the Tom Cat
Spraying
Cryptochid

Descended at birth
Treatment is castration
Estrus Behavior in A Bitch (video)